Kannon-in Temple (Chichibu Pilgrimage Temple No. 31) and Iwadono Sawaishi
Geosite 30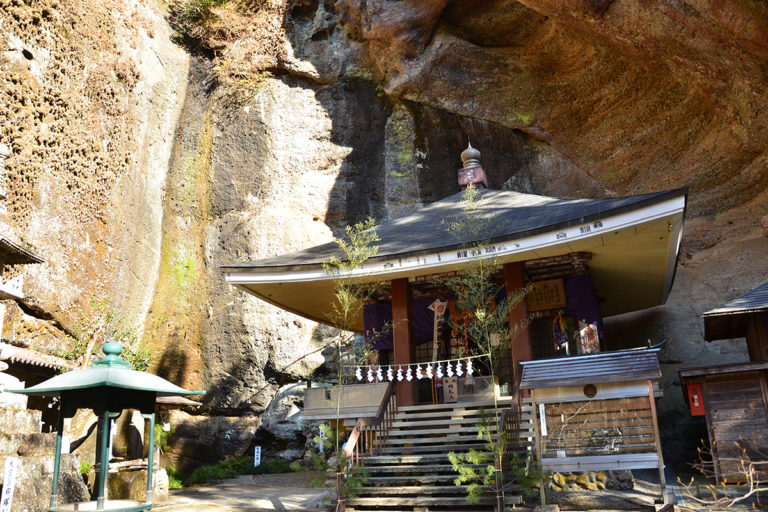 Basic points
The large rock cliff around the temple dedicated to Kannon is a sandstone deposited on the sea bed around 17 million years ago when the Chichibu Basin caved in and the ocean began to cover the region. On the rock face next to Seijo Falls, which has a height of 30m falling from the rock cliff, there is a small Buddha figure carved on a rock surface.
At the temple gate is a monolithic Stone Nio Guardian that is the largest of its kind in Japan. This statue and other stone Buddhas and stone walls are made from the so-called "Iwadono Sawaishi" or local tuffaceous sandstone. This is a stone material that has been used in various locations of the Chichibu region from long ago.
Access

Bus: Take the Seibu Kanko Bus bound for Kurio from Seibu Railway Seibu-Chichibu Station or Chichibu Railway Chichibu Station. Get off at Kurio and walk for around 1 hour (approx. 45 minutes from Kurio to the temple gate, and approx. 15 minutes climbing up 296 flights of stone steps from the temple gate to the main temple hall.

Parking

Yes
Sites nearby/Base facility
Map