Mitsumine Shrine
Culture/History Site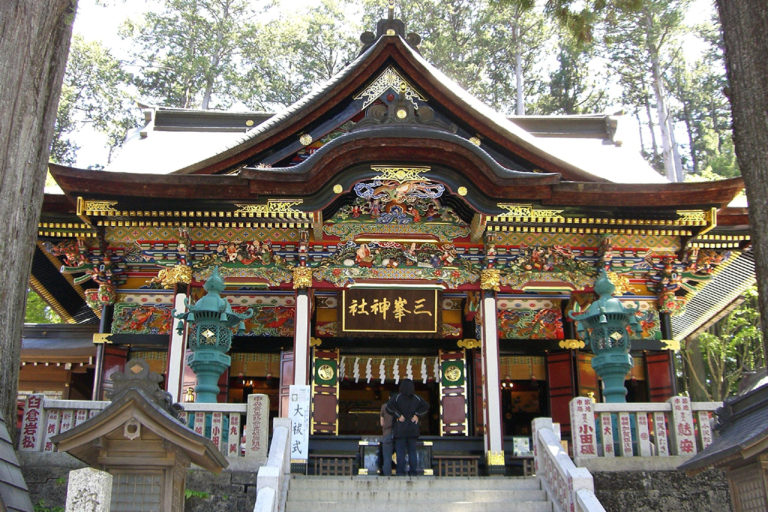 Basic points
This is one of the Chichibu Sanja (three shrines of Chichibu) located at an elevation higher than 1,000 meters in Okuchichibu. The shrine has become very popular in recent years, and it is considered one of the leading "power spots" (places believed to endow visitors with healing energy) in Kanto, where visitors can also learn about the legends of Takeru Yamato (a legendary hero in ancient Japanese history) and worship of Oinusama (a wolf). Visitors are amazed by the 800-year old sacred tree and majestic shrine.
Originally, Mitsumine collectively referred to Mount Kumotori, Mount Shiraiwa, and Mount Myohogatake that can be seen from the shrine. These mountains are made from chert, limestone, and other hard rocks of the Chichibu belt, and it served as the place of practice of Shugendo (an ancient religion incorporating Shinto and Buddhist concepts in which practitioners carry out ascetic practices in the mountains) due to the harsh terrain.
Access

Bus: Take the Seibu Kanko Bus bound for Mitsumine Jinja (Express) from Seibu-Chichibu Line Seibu-Chichibu Station and get off at Mitsumine Jinja. *Around 1 hour and 15 minutes on foot from Seibu-Chichibu Station.

Parking

Yes
Sites nearby/Base facility
Map